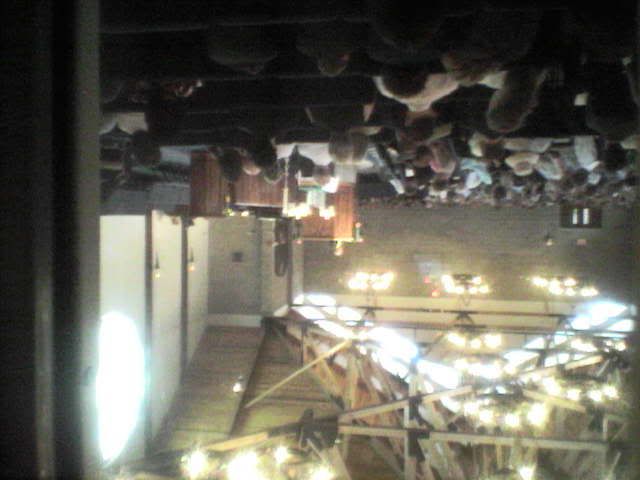 The Kelley family spent the July 4th weekend in Florida visiting family. In what has become somewhat of a tradition whenever we go to Florida, we visited St. Andrew's Chapel, where Dr. R.C. Sproul is the "Minister of Preaching and Teaching."

On the cover of the program of St. Andrew's Chapel, these words are written:


"We cross the threshold of the secular to the sacred, from the common to the uncommon, from the profane to the Holy."
If anything, the trend in our day is to make the sacred secular, the uncommon common, and to profane the Holy. Just look around and it won't take you long to find an example. For instance, we have a church in our area who's members wear t-shirts around town that say "These are my church clothes." This, I suppose, is their way of poking a thumb in the eyes of legalists. But I think it also demonstrates how this church might have lost sight of the fact that a worship service (if it truly is one) is
something special;
something worth changing their clothes to attend
.
A worship service at St. Andrew's is truly a wonderful experience. The high liturgy of the service is awe inspiring. Everything is done with purpose and with excellence unto God. The music inspires the mind and moves the soul. The hymns are deeply theological, not happy clappy fluff with no substance. There are no hippies with guitars, nor do they sing 3 mindless lines over and over in order to "pump and prime" the crowd.
The reverence in the room is amazing. Unlike anything I've ever experienced. The exposition of Scripture, verse by verse, is something that is esteemed vitally important and central, not simply a means to an altar call. It's almost like stepping into another world: a world that hasn't been effected by the revivalism, humanism, anti-intellectualism, and pragmatism that has conqured so many Evangelical churches of America.
Another recent visitor to St. Andrew's is Brandon Vallorani of
American Vision Ministries.
In an article published
today
, he wrote about his visit:
"We began our week by worshipping at St. Andrew's Chapel in Orlando, where we heard Pastor R.C. Sproul deliver a striking sermon on Matthew 16:19. The reverence and majesty with which God is worshipped at St. Andrews stands in sharp contrast to much of what passes as "worship" in the contemporary church today. Every detail from the architecture to the liturgy reflects an appropriately high view of our Heavenly King. While there's still an opportunity, I encourage all of you to make your way to R.C. Sproul's church on the Lord's Day and experience this taste of heaven for yourselves."
In closing, I think it's disturbing that Christians in our day want to bee-bop up into church with a "Jesus is my homeboy" attitude. The Lord isn't our "homeboy," He's the King of Kings and Lord of Lords. They forget that the God they claim to worship is the one who struck down Aaron's sons for offering "strange fire" that He did not command.
After each of my visits to St. Andrew's Chapel, I've always left longing for more. I come away with a vivid reminder that worship is all about God. If you ever get a chance to go to the Orlando area, take a ride up I-4 to Sanford on a Sunday morning. Visit St. Andrew's Chapel. You'll be blessed.
(I took this rather poor quality picture of Dr. Sproul preaching with my cell phone camera from inside the "cry room" where I was with my baby boy.)